Apple AirPods (3rd generation) review: raising the level
The AirPods 3 are more like AirPods Pro Lites - here's why
Apple's AirPods have dominated wireless earphones in recent years. Does this third generation of the standard buds keep them ahead of the pack?
When the first-generation AirPods arrived back in late 2016, it wasn't hard to enthuse about what they provided; reasonable sound quality without the cord and excellent integration with iOS (though they, like all AirPods, they work fine with other Bluetooth devices). However, they – and 2018's follow-up AirPods 2 – had a problem. They made you look a bit, well, silly.
Five years on, we're now more used to people wearing them, but Apple made a point of making the 'stalk' shorter when it launched the AirPods Pro two years ago. The AirPods 3 are similar, meaning this is now the standard for AirPods. Indeed, these are similar in many ways to the more expensive AirPods Pro. In that sense, it makes sense to consider them as AirPods Pro Lite rather than being a step on from the everyday AirPods 2.
But they enter a much more mature market – noise-cancelling wireless earphones at this price point or less are common, though you need to pay more for top contenders such as the Sony WF-1000XM4/XM5, Sennheiser Momentum True Wireless 2 or the Bose QuietComfort Earbuds. And then there are plenty of worthwhile true wireless earphones under the $100/£100 mark.
This review was originally published on 25 October 2021.
Design and setup: Pros without the tips
The AirPods 3 are a bit of a hybrid of the AirPods 1 and 2 design and that of the AirPods Pro. As you can see from our pics above, we've put (from left to right) the AirPods 2 against the AirPods 3 and the AirPods Pro.
As you can see, the AirPods 3 case is flatter rather than taller, much like that of the AirPods Pro, while the earphone itself is much more angled than early generations and do sit more securely in the ear. As with previous AirPods, they're surprisingly comfortable and able to be worn for long periods of time.
They're also IPX4 dust and water-resistant including the case – AirPods Pro earbuds are also rated IPX4 but the case doesn't have a rating. Water resistance is one thing – you don't need to worry about wearing them in heavy rain – but sweatproofing is a game-changer for what will become the standard AirPods because so many people use AirPods for exercise.
Sound quality: steppin' up
If you go from AirPods 1 or AirPods 2 to these headphones, you'll notice a definite step up. They are worth the upgrade from earlier generations, no question. Like AirPods Pro, they feature technology Apple calls Adaptive EQ. This is essentially a marketing term for tech that means the sound adapts to the shape of your ear. AirPods Pro and Max have mics specifically to aid this sound enhancement and that's also employed here. Where the AirPods 3 fall down compared to the AirPods Pro is, obviously, in terms of active noise cancellation (ANC).
As we type this, we can hear every keypress and children elsewhere in the house despite the music being loud. With AirPods Pro in noise cancellation mode, we can still hear some of the typing but not the children elsewhere in the house. Voice quality is top-notch and is only problematic when it's windy. Apple says these Airpods feature AAC-ELD for higher voice quality and they're certainly a step on from AirPods 2 for sure. Again beamforming microphones are used and there's hands-free Siri support; you can get Siri to read notifications and text messages to you should you wish.
Features and battery life: long, long time
Crucially these AirPods no longer have the patchy touch sensor found on the outside of the AirPods 2; they have the same clickable button in the stalk to answer/end/pause and play. The battery life is better on these AirPods than even on the AirPods Pro, with six hours in the buds and a total of 30 hours in the case and certainly the case lasts a long, long time before you need to charge it.
As well as Lightning wired charging, wireless charging on any Qi charger remains supported, but there's now a twist since the AirPods 3 (plus the AirPods Pro 2nd generation) now come with a MagSafe wireless charging case, meaning that it'll magnetically attach to any MagSafe charger. This may seem a small victory, but if you've got a MagSafe cable, it means you can immediately put your AirPods case in the best place for charging without – as we have to on our bedside Qi pad – trying to place the case in a particular position.
AirPods 3 also support Find My proximity view, meaning you can guide yourself to them if they're nearby. You can also configure separation alerts and sounds.
Apple AirPods 3 verdict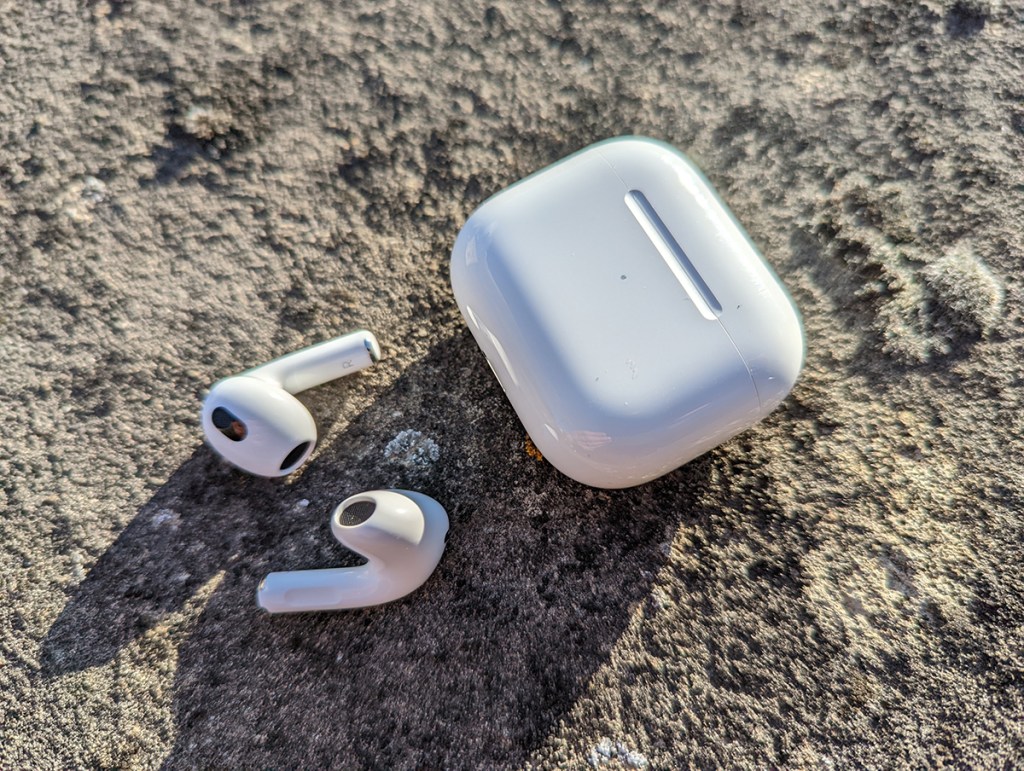 Apple's AirPods 3 are a worthy upgrade compared to older AirPods. However, unless you want to avoid the silicon tips of the AirPods Pro, you may find that the Pros aren't that much more expensive and, of course, they also offer noise cancelling.
It's worth pointing out that the AirPods Pro have been relentlessly discounted over the last year, so they aren't that much more expensive than the AirPods 3 are hitting the market at.
That said, we'd expect the AirPods 3 to also be discounted in the coming weeks and that will bring them into a much more attractive bracket. Because as go-anywhere, do-anything earphones they're hard to beat if you're an iPhone/iPad/Mac user and you don't need to go all-out for noise cancellation.
Tech specs
Connectivity
Bluetooth 5.0, Lightning, Qi
Sensors
Dual-beamforming mics, inward mic, skin sensor,
motion and speech accelerometers, force sensor
Battery life
6 hours (AirPods), 30 hours (in case)
Weight
4g (one AirPod), 37g (case)
Dimensions (case)
54 x 21 x 46mm
Stuff Says…
Apple's AirPods 3 are a worthy upgrade. But, unless you want to avoid the silicon tips of the AirPods Pro, you may find the Pros aren't that much more expensive.
Good Stuff
Great sound quality
Sweat and water resistance
Long battery life
Skin-detect sensor very welcome
Bad Stuff
AirPods Pro aren't that much more expensive
No noise cancelling