Samsung Galaxy Z Fold 5 hands-on review: know when to fold 'em
Design upgrades and slick software for fifth-gen foldable
Samsung's Galaxy Z Fold range has been the undisputed champ of book-style foldable phones for four generations, but the past twelve months has seen the folding upcoming phone competition really ramp up.
Huawei and Honor have been making a splash in China; Google has gotten in on the action; OnePlus is gearing up to do the same. The Galaxy Z Fold 5 is out to prove the firm that kickstarted the trend still does it best.
Standout upgrades include a streamlined design that banishes the gap for good, a custom-tuned CPU that majors in multitasking, and big brightness boost for the inner display. Add in the latest version of Samsung's OneUI software and it promises to be a portable powerhouse. Is this foldable phone different enough to maintain Samsung's lead?
We got the chance to go hands-on with the Z Fold 5 ahead of the official reveal at Unpacked 2023 in Seoul in order to find out.
Design & build: goodbye gap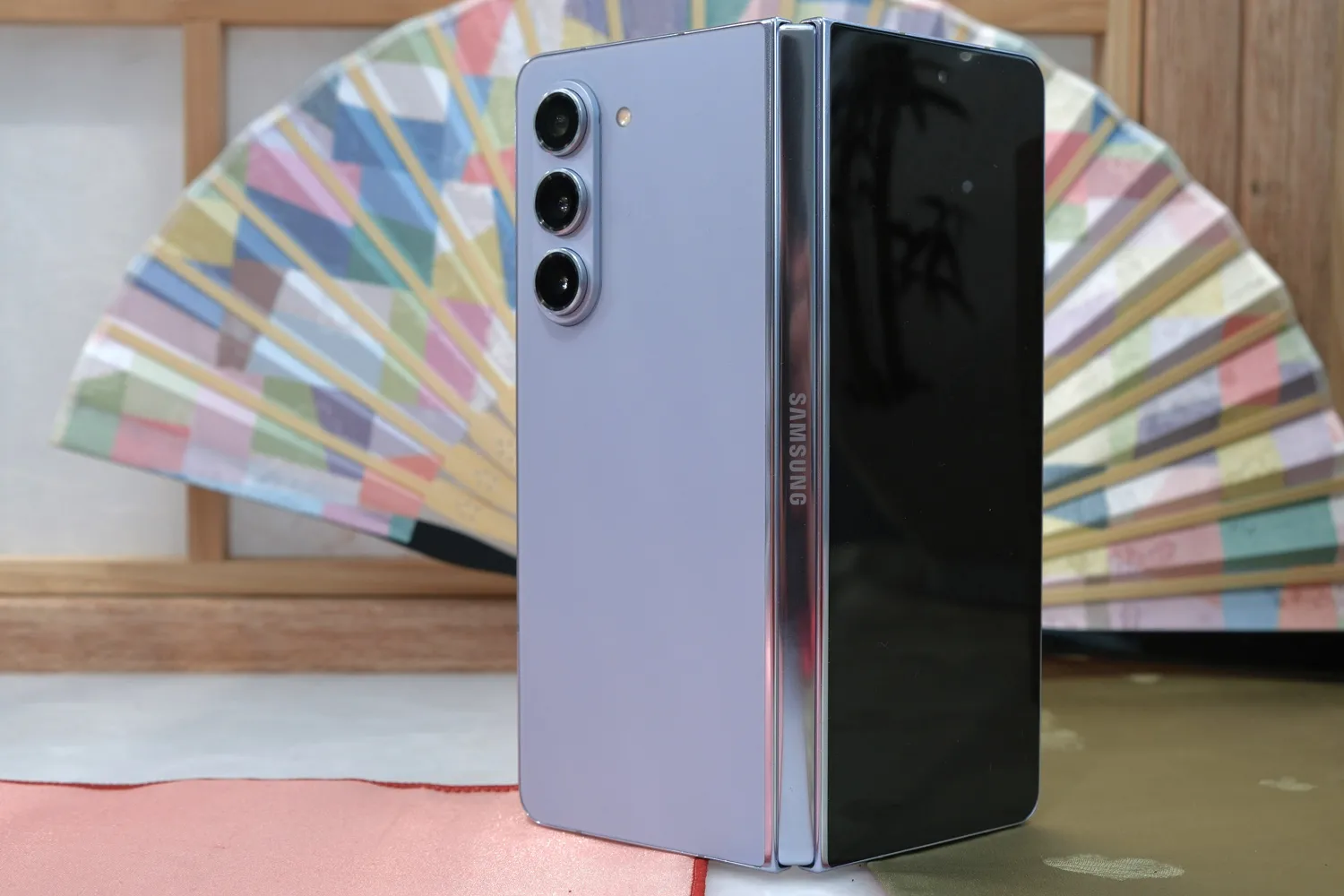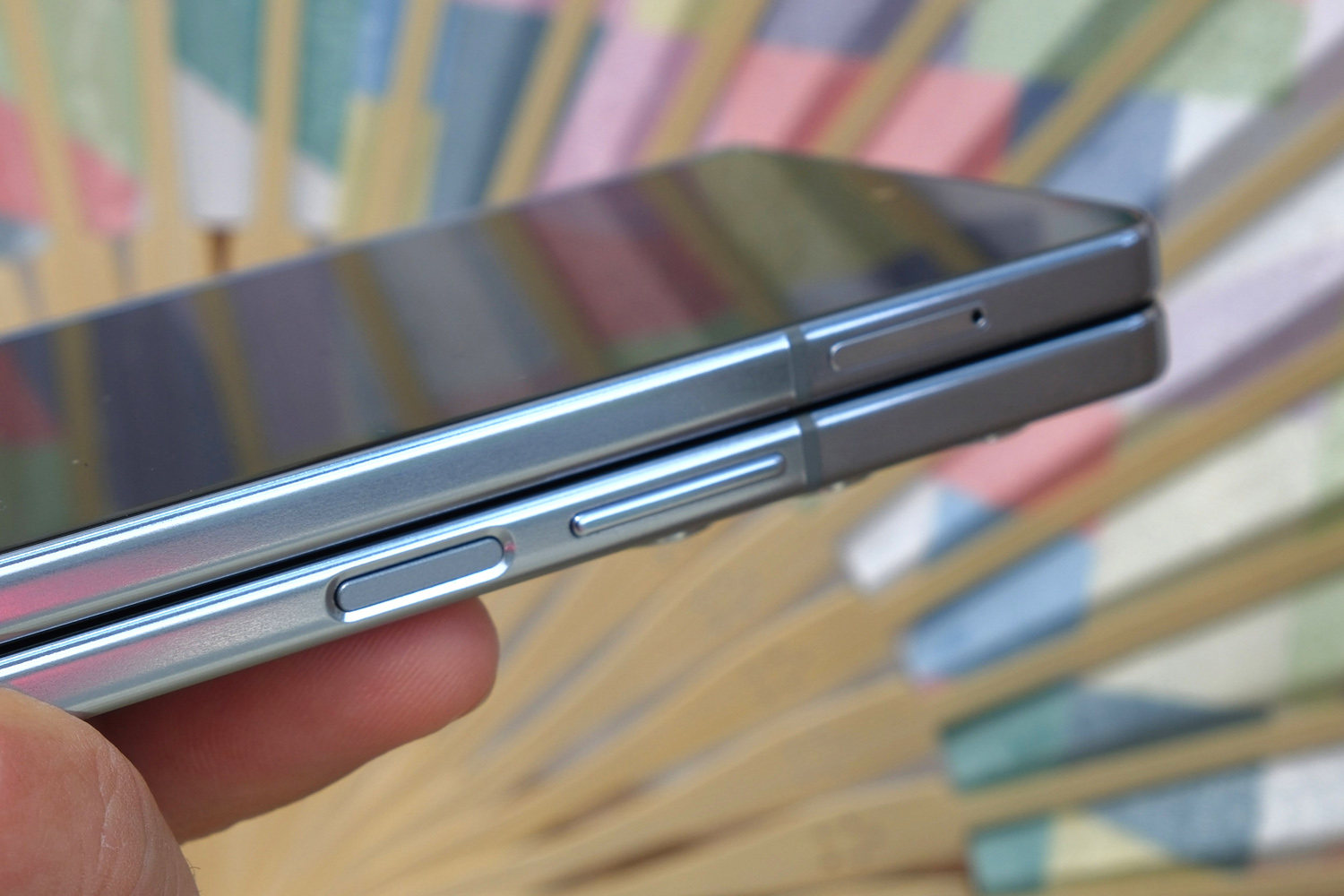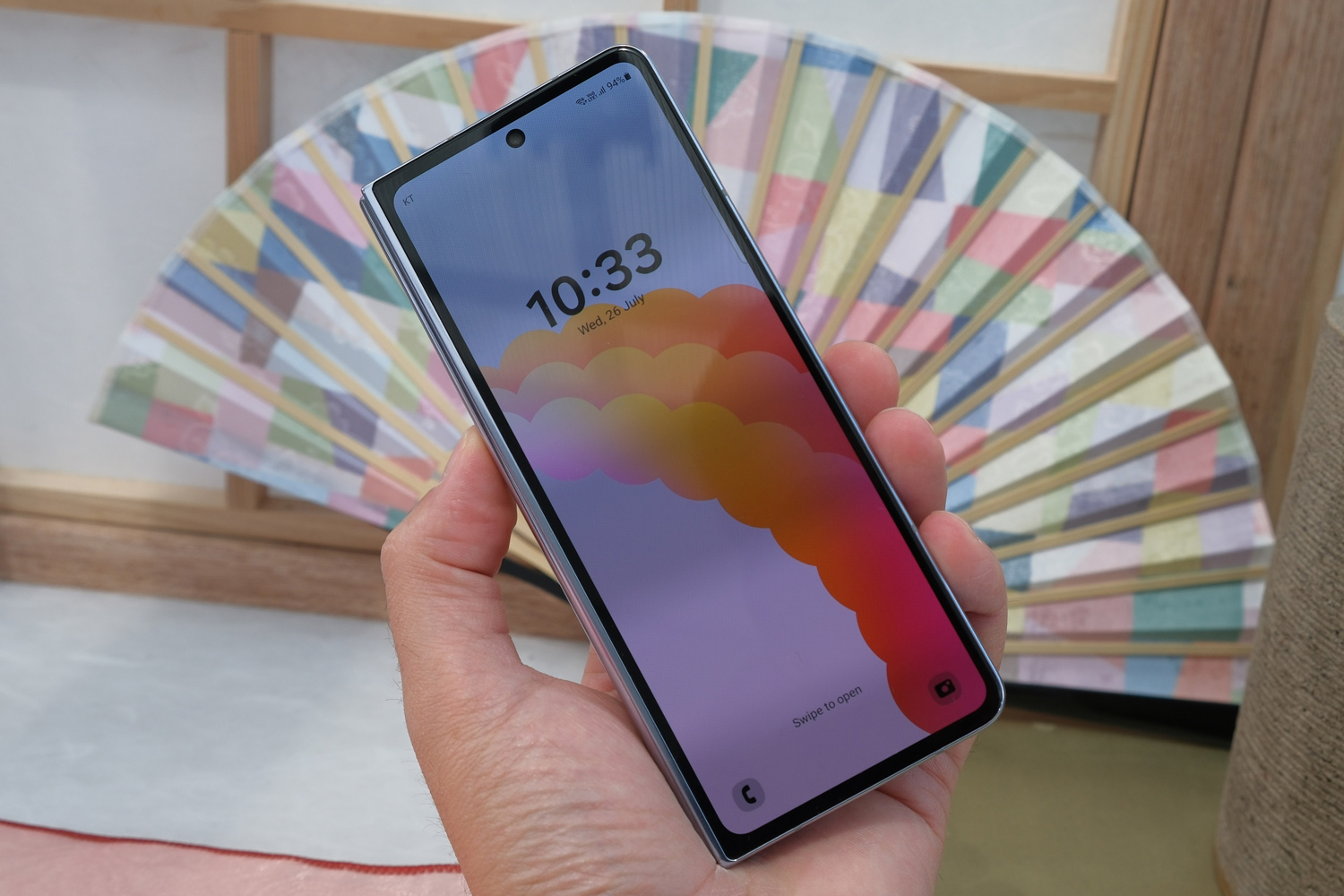 Held face-on and folded shut, it's tough to tell whether you're looking at the Z Fold 5 or its predecessor. Turn it over and the only hint is a relocated camera flash – and the new Icy Blue colour scheme. The family resemblance to Samsung's other flagship phones remains strong, with a polished metal frame, smoothly rounded corners and matte glass which held up very well to fingerprint muck during our demo session.
Check out the top or bottom, though, and it's immediately obvious the Z Fold 5 is a generational upgrade. The gap is gone, courtesy of a waterdrop-style hinge that's as still as sturdy and willing to hold steady at wide angles as the last-gen phone. It disguises the inner screen's crease a little better too, although not to the extent of certain rivals.
It has shed 10g compared to the old phone, and is 2.4mm thinner when folded now. That makes a small difference in your pocket, but a bigger one in your hand; at 253g it's only a little heftier than an iPhone 14 Pro Max, and feels closer to a traditional phone when folded shut. The Huawei Mate X3 is slimmer still, and the Honor Magic V2 even more so, but the former is hobbled in the West without Google services support, and the latter has yet to leave China.
Samsung has switched to Corning Gorilla Glass Victus 2 for the outer display, so it should be more damage-resistant than that outgoing model. What hasn't changed is the IPX8 rating, which is still as good as foldable phones get on water resistance; the Motorola Razr 40 Ultra manages better dust resistance, but isn't able to withstand as much of the wet stuff.
With no room to stash one inside the phone, the Galaxy Z Fold-specific S Pen digital stylus remains an optional upgrade. Samsung has slimmed down its official S Pen Fold Edition case fair whack, though. We like the contrasting colours, which are a lot more impactful than the phone's subtle hues.
Screens: brilliantly bright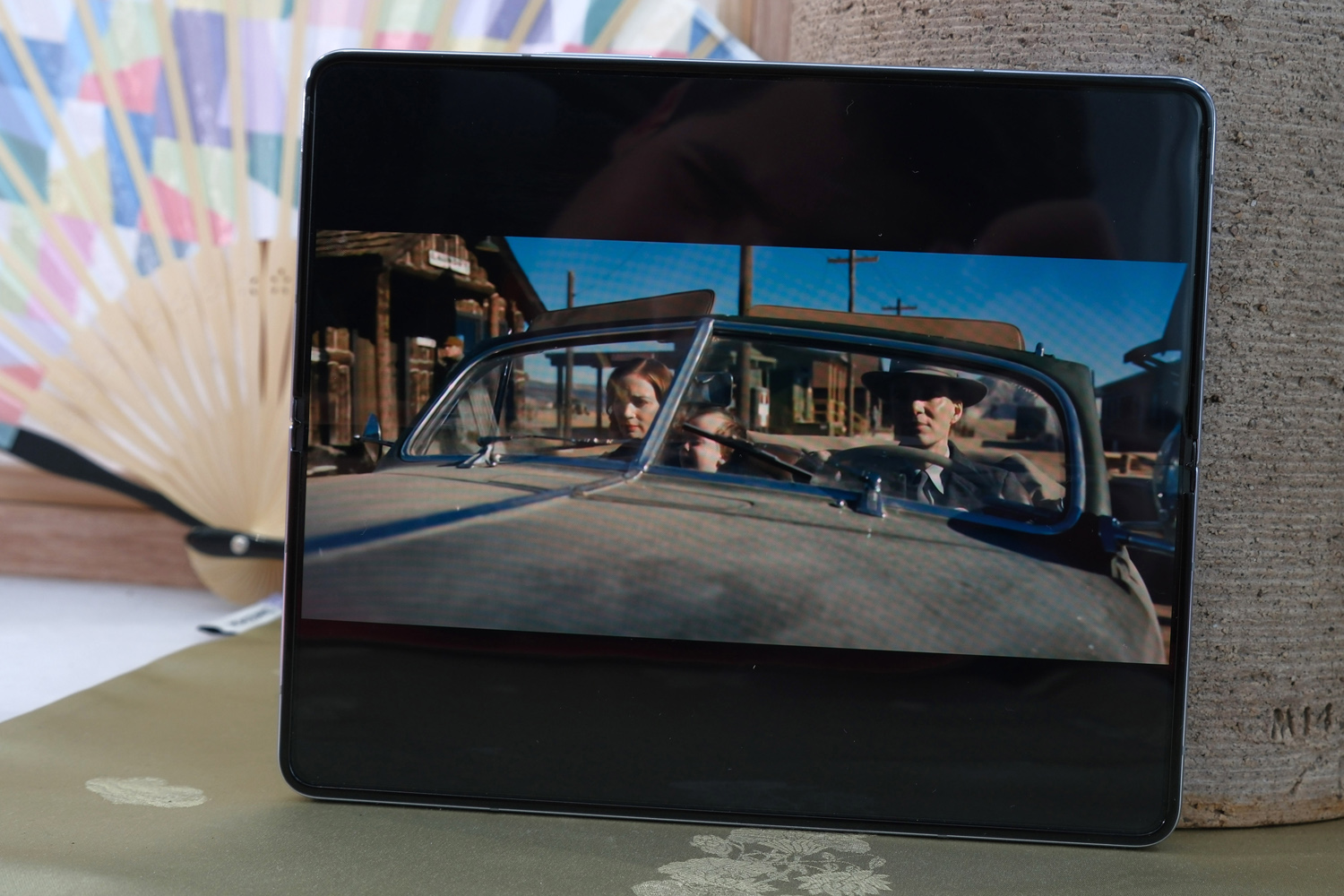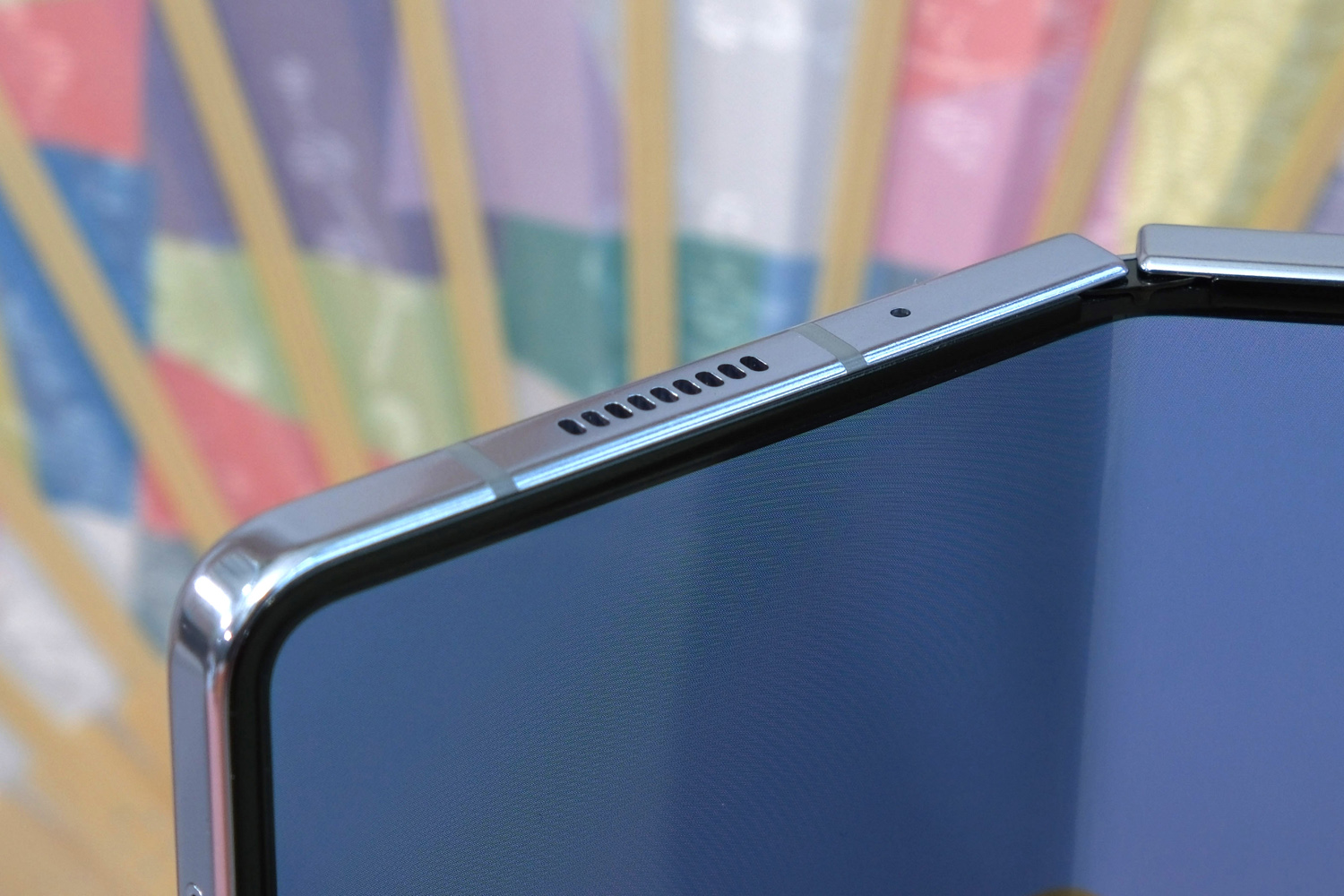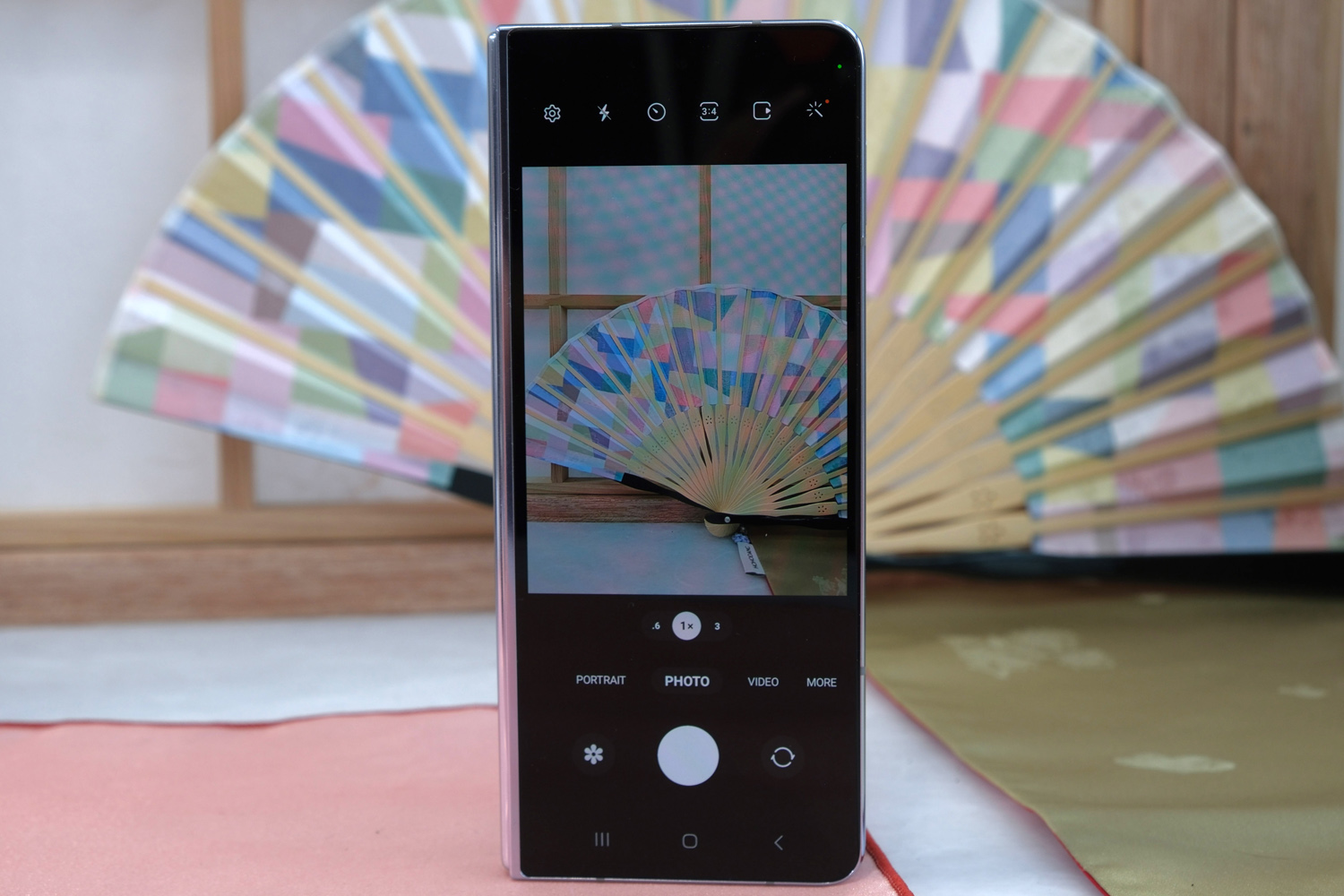 Having used the Google Pixel Fold and its short yet wide outer display for a while now, we're no longer convinced tall and narrow is the way forward for book-style foldables. Samsung feels otherwise, so has stuck with the familiar 6.2in screen last used in the Z Fold 4. Its slender 23.1:9 aspect ratio made certain apps and web pages feel a little cramped during our brief test session, but perhaps we'd get used to it again if we were using it full-time.
The panel is still top-tier, with a sharp 2316×904 resolution, 120Hz refresh rate and wonderfully vibrant AMOLED colours. We didn't get the chance to step outside to see how it coped in bright sunshine, but that wasn't a problem for the Z Fold 4 last year, so we're expecting similar results here.
Bigger gains have been made on the inner panel, which has slightly skinnier bezels this time around. It's still a 7.6in AMOLED panel, with a 2176×1812 resolution and 120Hz refresh rate, but a brightness booster puts it on par with Samsung's Galaxy S23 line-up of traditional flagships. While the Z Fold 4 managed 1000 nits in High Brightness Mode (HBM) and 1300 nits peak, the Z Fold 5 hits a claimed 1200 nits and 1750 nits respectively.
We're yet to measure the screen to see if it holds up to those figures, but it certainly looked easy on the eye during our hands-on demo. Fully cranked it gave plenty of punch to an HDR film trailer, with dramatic highlights alongside deep shadows. A full review will discover if the built-in speakers are able to supply equally engaging audio.
Cameras: familiar trio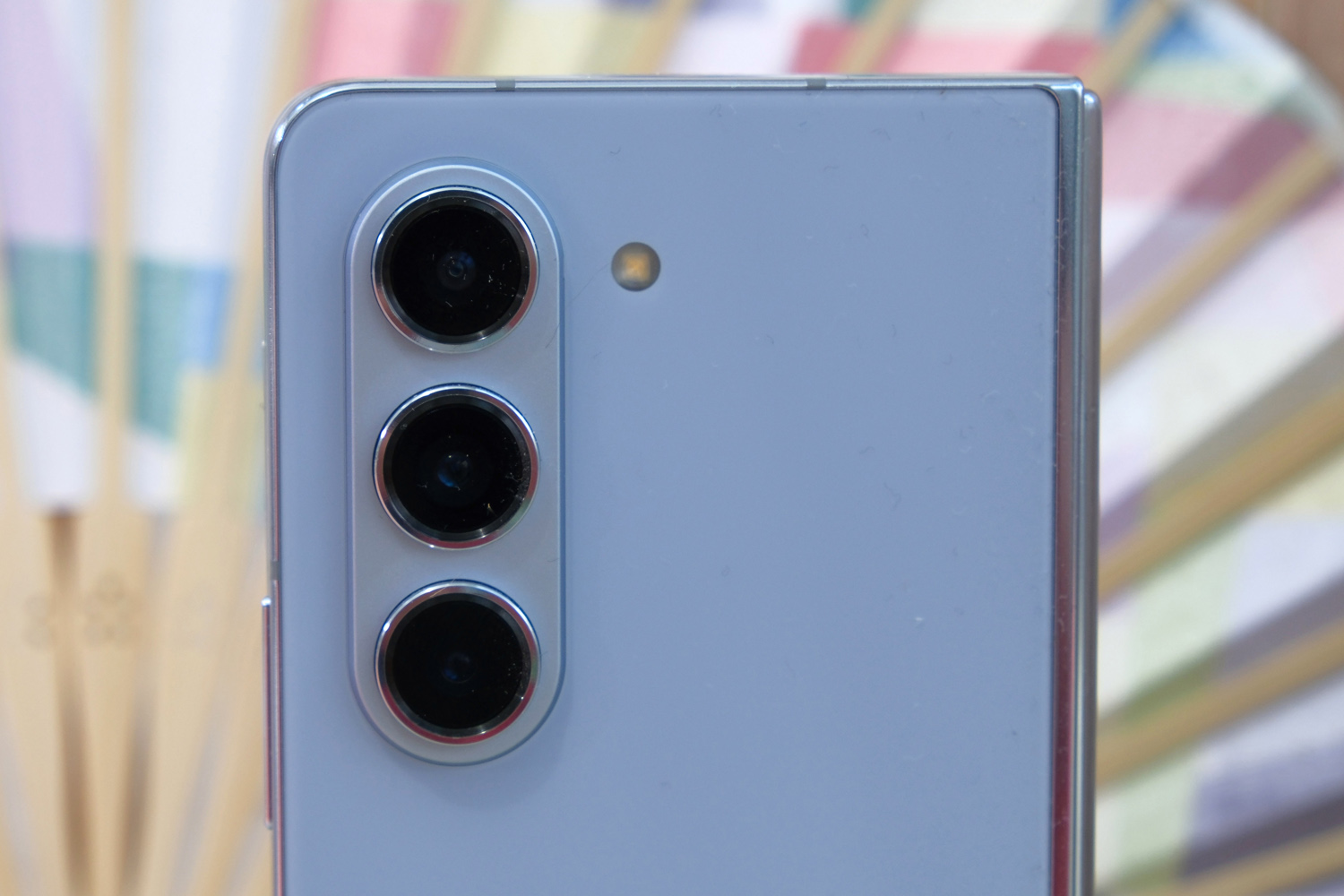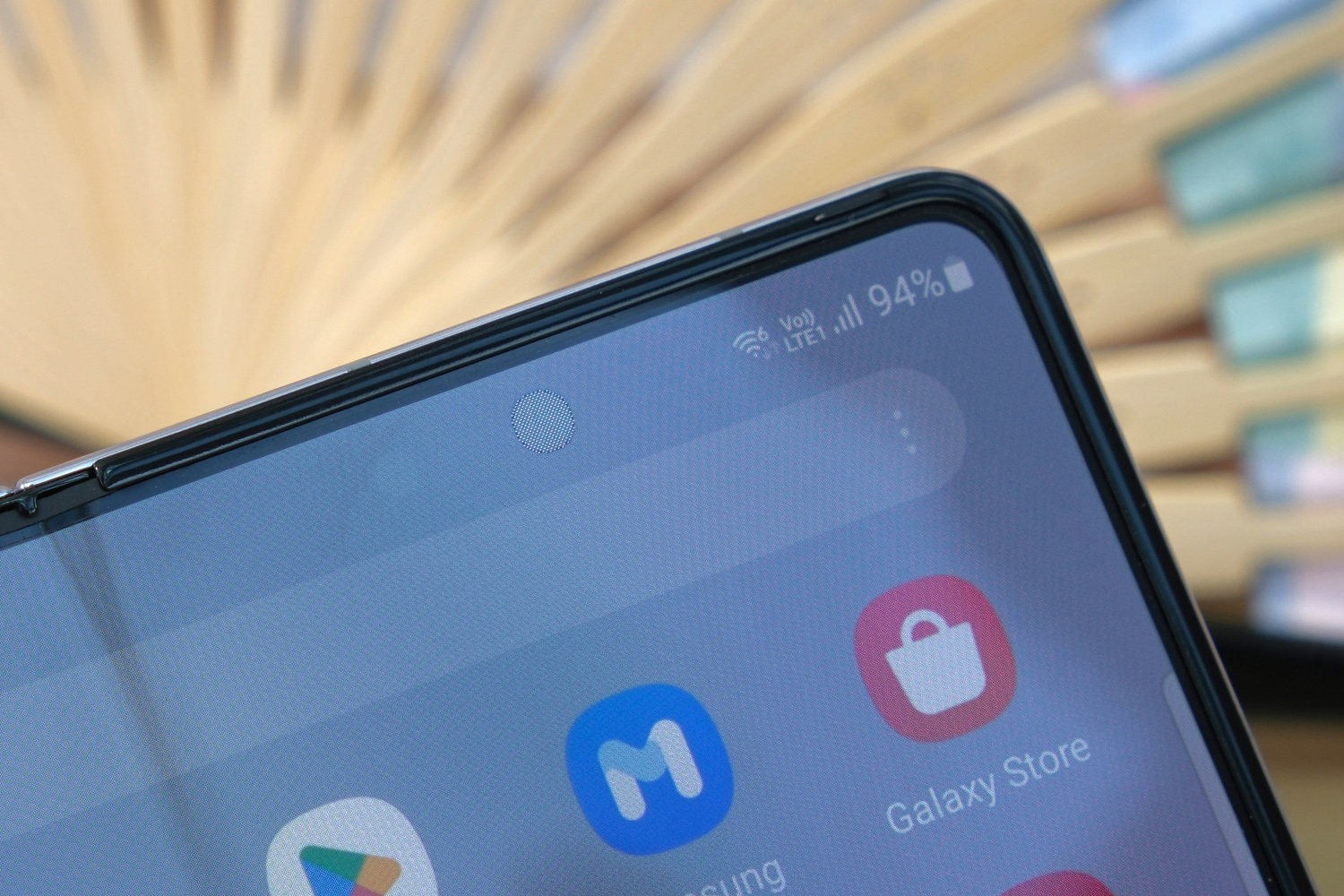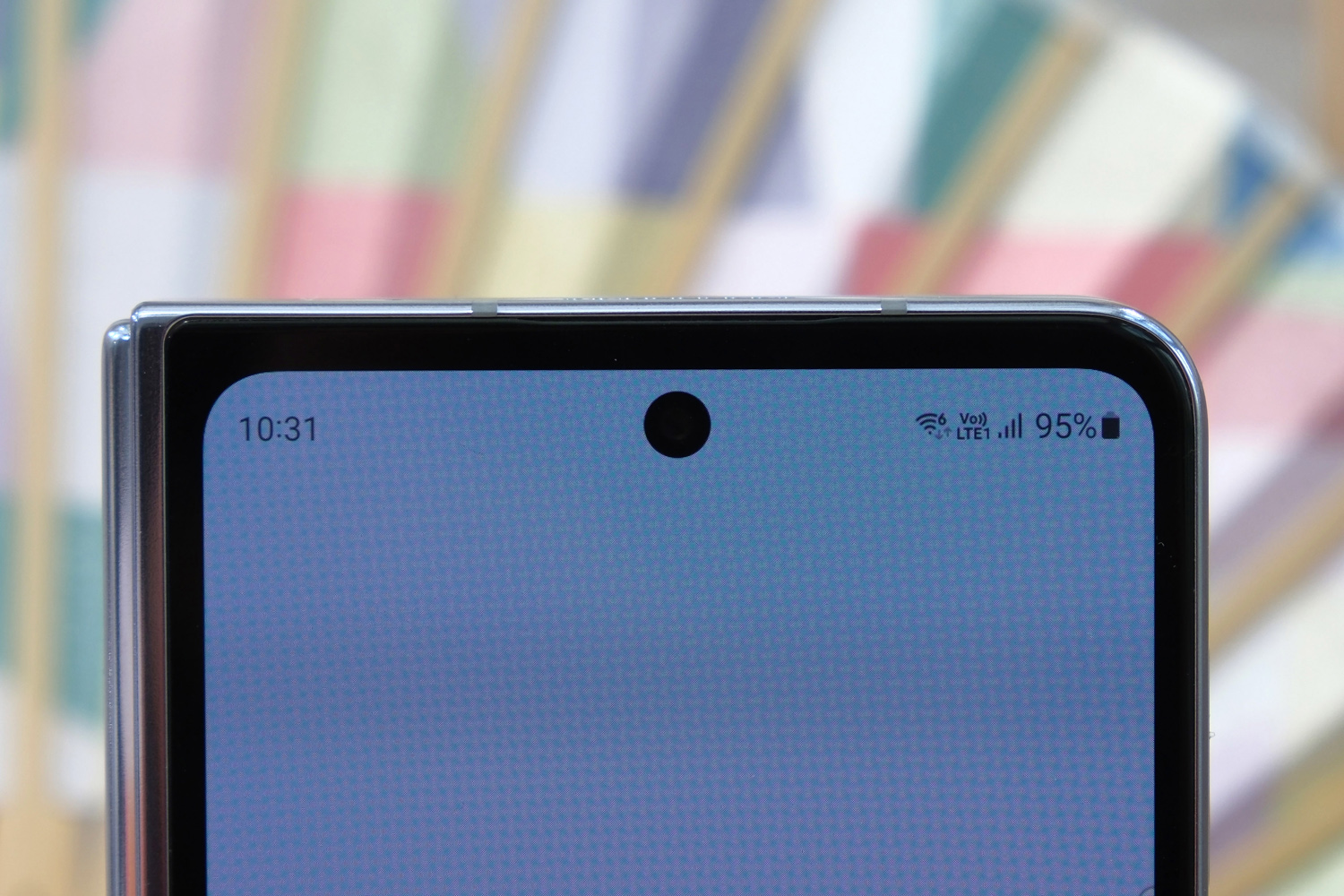 With Google having only recently brought its algorithmic camera cleverness to the folding phone scene, it's a little disappointing not to see Samsung bringing any significant upgrades of its own this year. The Z Fold 5 has the same trio of rear sensors, same punch-hole front selfie shooter and same under-display inner webcam as last year, albeit with a year's worth of image processing improvements to fall back on.
That's still some capable hardware, though. The 50MP main snapper has a wide f/1.8 aperture dual pixel autofocus and optical image stabilisation, so should be fast-firing and quick to lock on to subjects, even in low light. It felt perfectly responsive in our brief testing, but we'll have to wait for a full review to decide on image quality. The 10MP telephoto also has OIS, which helps with steady shots at 3x optical zoom, and the 12MP ultrawide has a 123-degree field of view to really squeeze more of each scene into every snap.
We're not expecting a major quality boost from the 4MP under-display webcam, which was useful for video calls on the outgoing Z Fold 4 but rather hazy for stills. The 10MP, f/2.2 front-facing camera will almost certainly fare better. The few selfies we shot during the preview event looked detailed and well-exposed on the phone's screen, so will probably cut the mustard for social sharing.
The camera app has all the usual modes and features, including a Dual Preview to help your subjects see in the outer screen how you're framing them using the inner one.
Software experience: keeping productive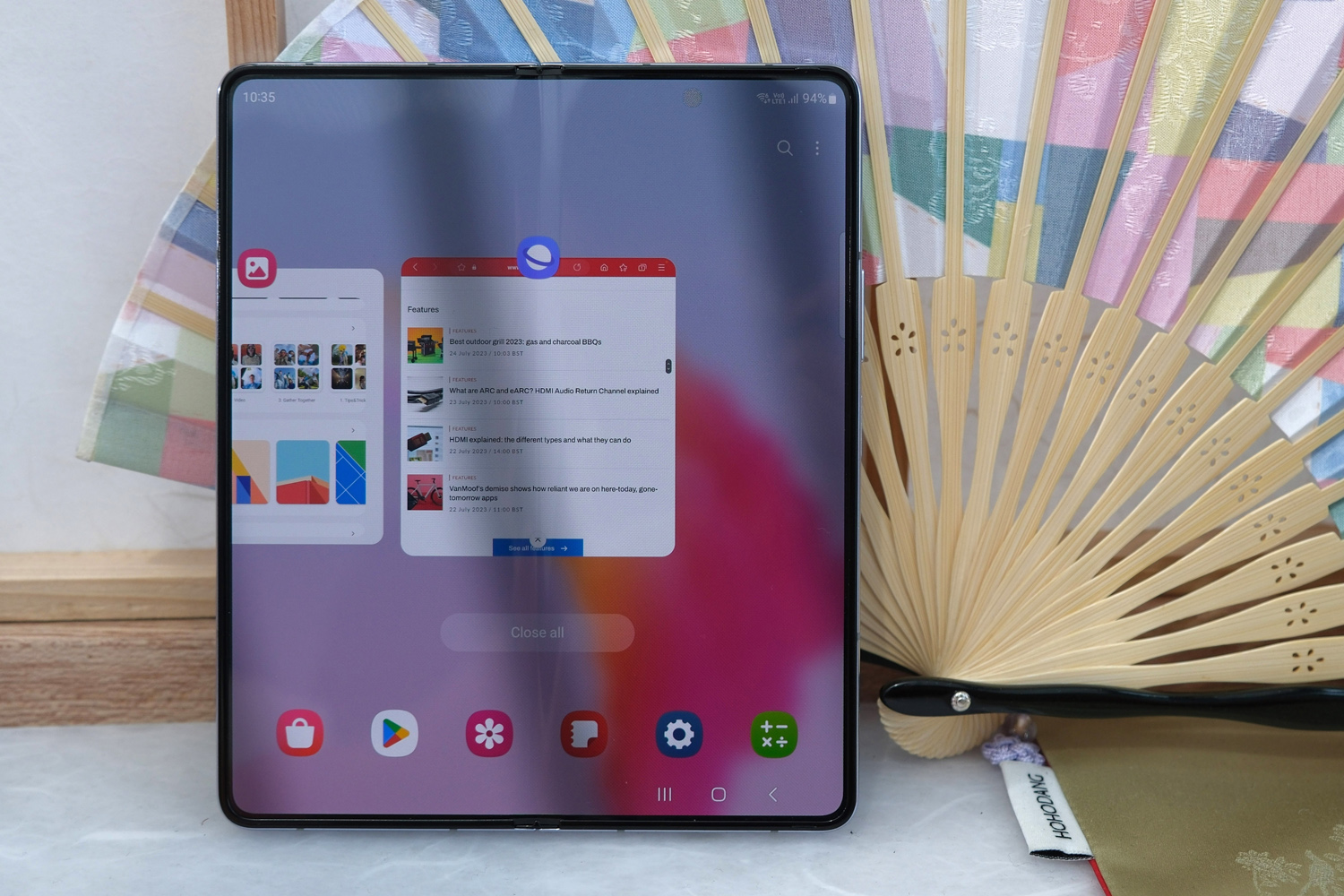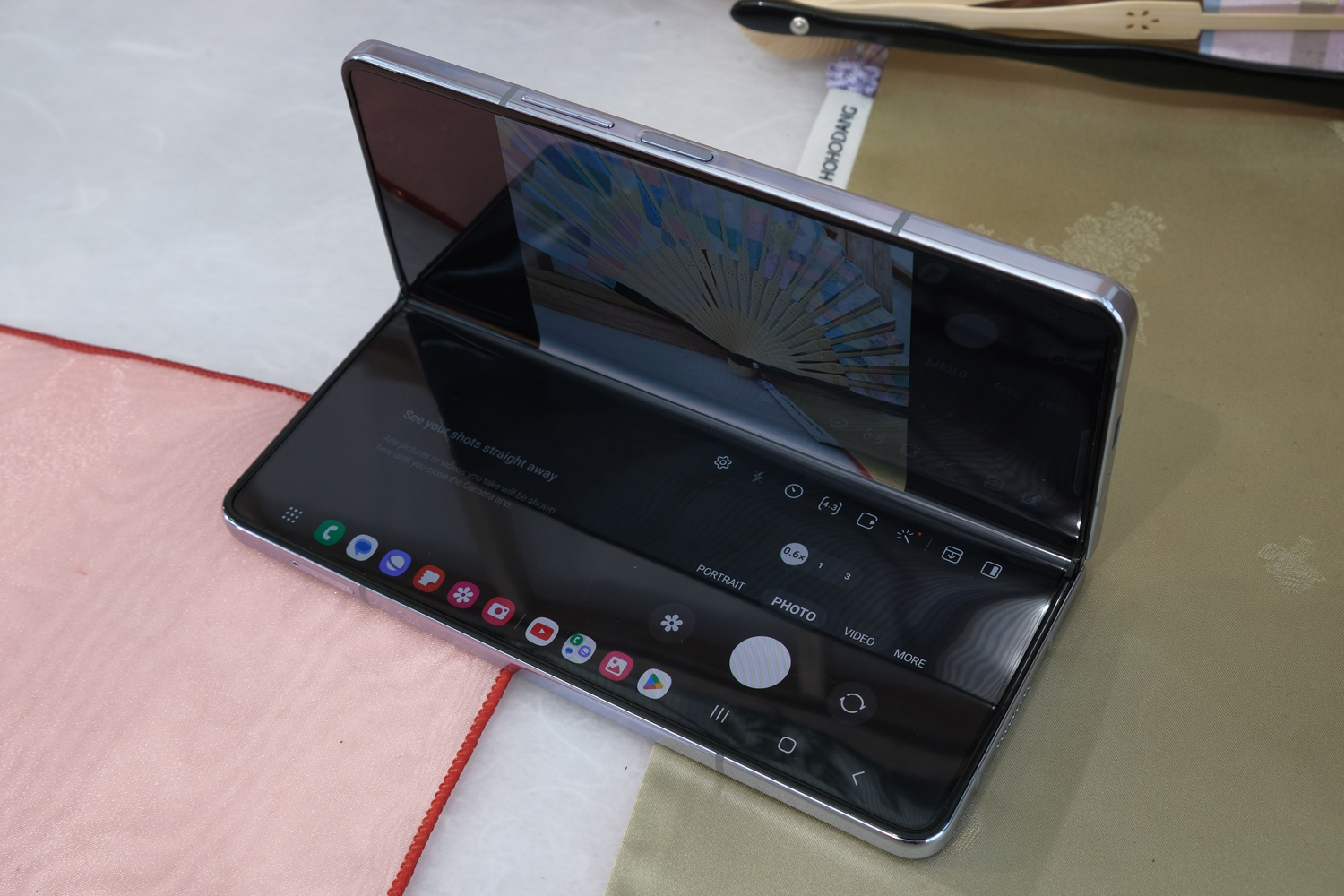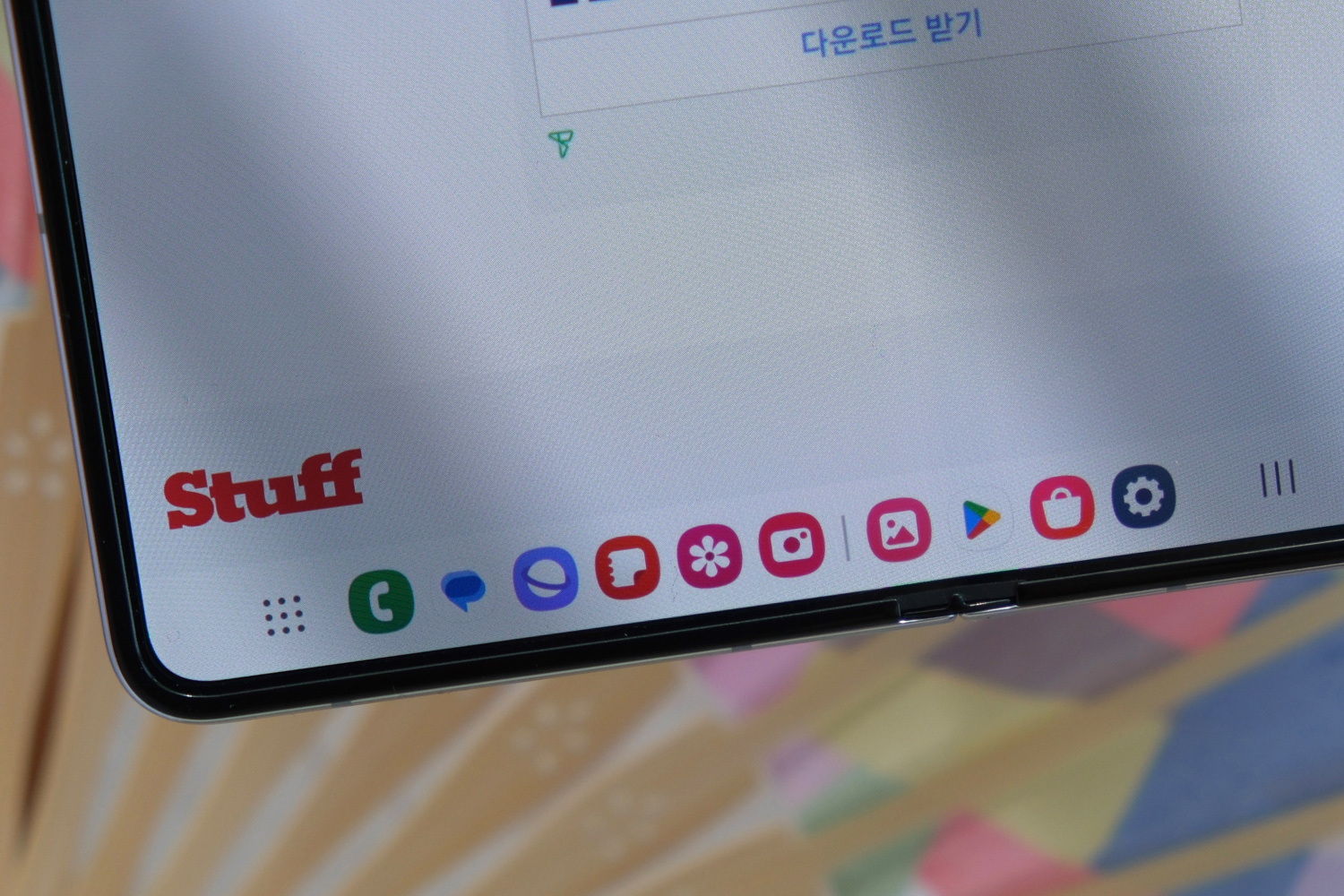 Multitasking is one of the biggest reasons to consider a foldable phone, and it's something Samsung does better than anyone else right now. The Z Fold 5's take on Android 13 lets you have three apps open at once on the inner display, plus a fourth in a floating window. The pull-out sidebar also makes it easier to hide and show those windows now (it could be a little fiddly before).
Out of the box the taskbar along the bottom edge is always visible, letting you jump into your favourite apps without going back to the home screen first. New dynamic shortcuts show up to the four last-used apps in addition to your faves, so you don't have to go digging for them in the Recents menu. They're all still on the small side, and easier to poke with an S Pen than your finger, but it's still a slicker option than other foldables we've tried.
The OneUI interface is as comprehensive as ever, with a wide selection of Samsung apps in addition to Google's own. There are a few extra toolbars and menu options for newcomers to get their head around, but it shouldn't take long to acclimatise. Fold-specific features include Flex Mode, which kicks in when you have the phone half-open for hands-free video playback. It was somewhat basic last year, but gains rewind and fast forward buttons now, along with a customisable toolbar to put things like trackpad control a tap away.
Performance & battery life: power lifter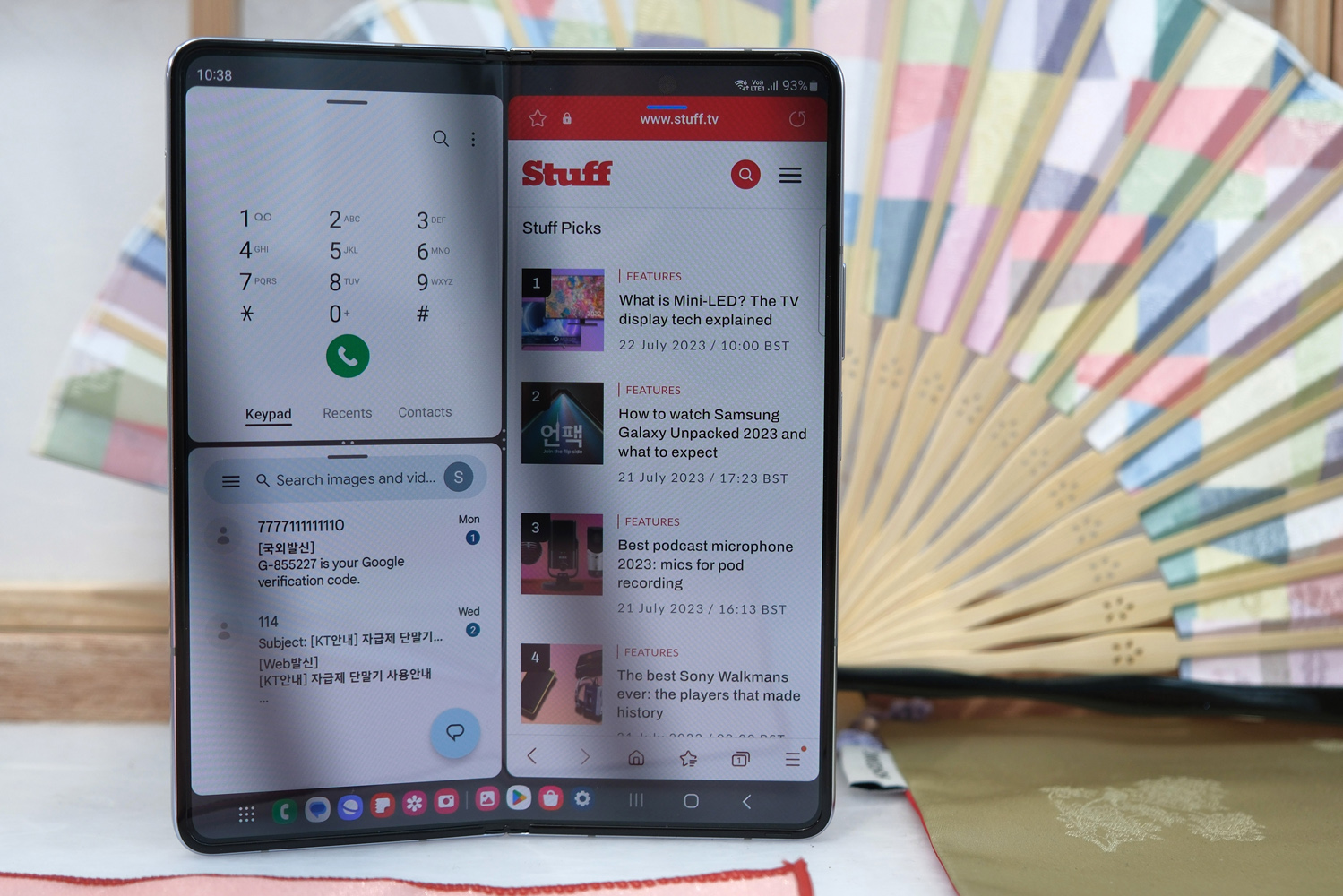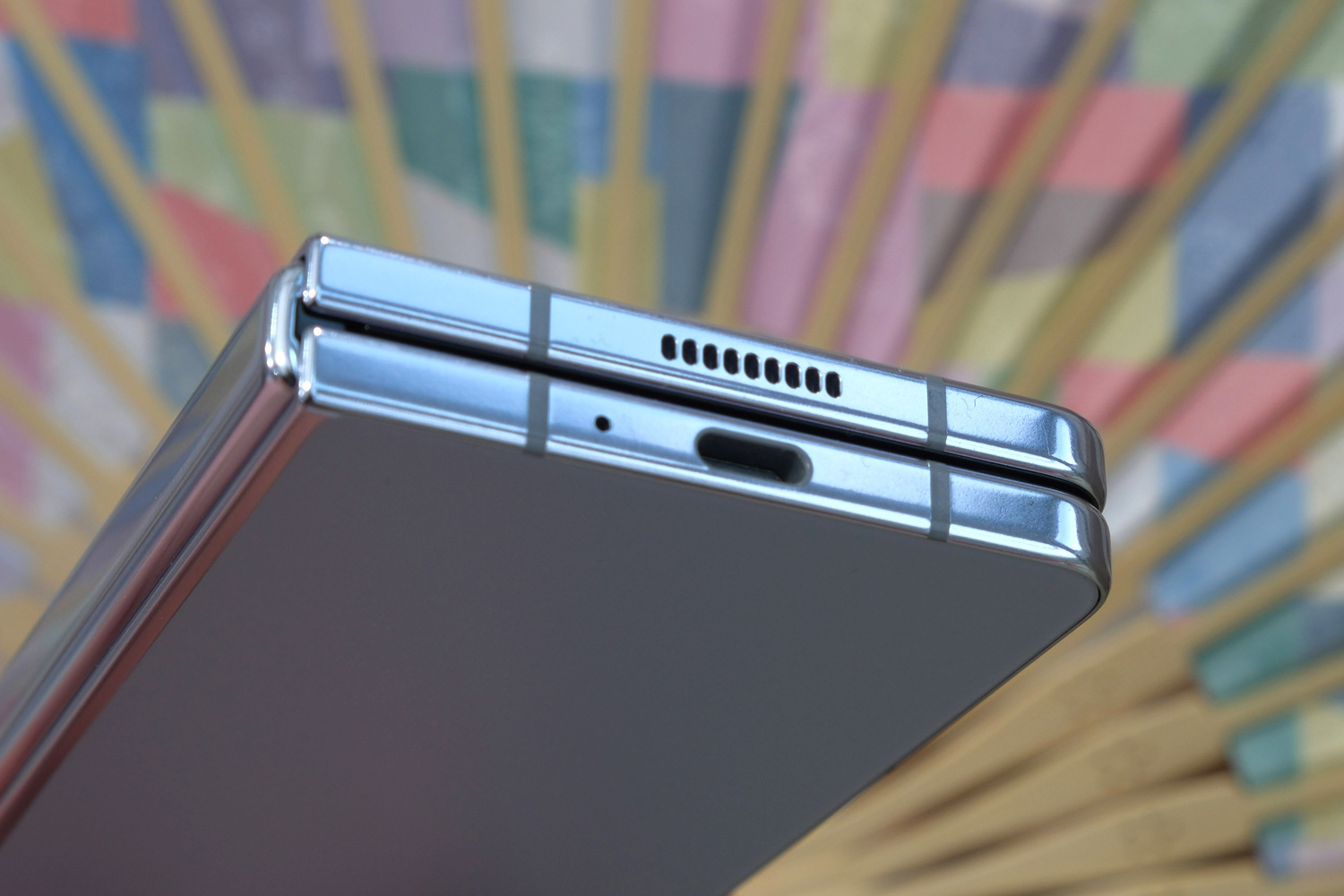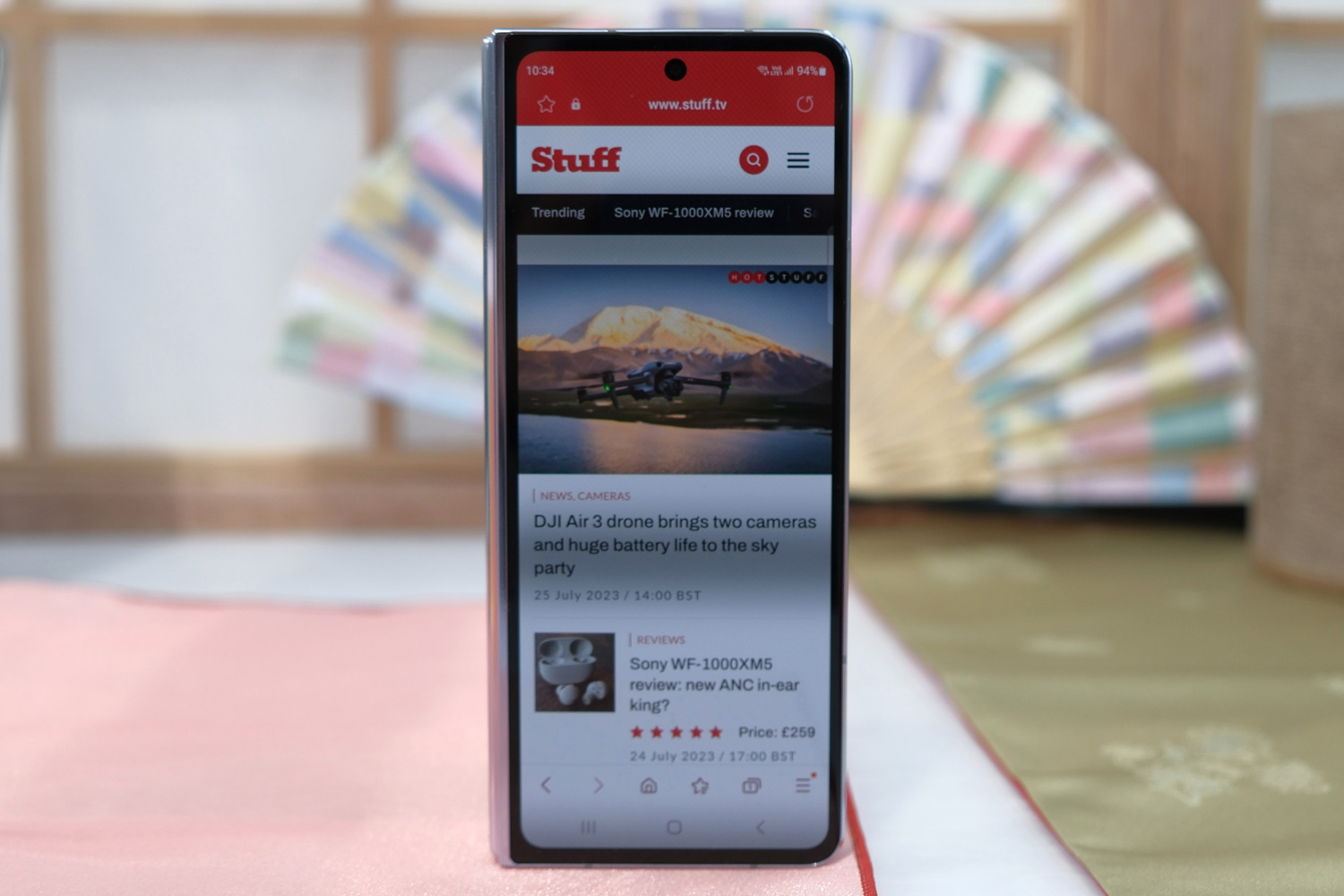 Given Samsung partnered with Qualcomm to put a custom-tweaked Snapdragon 8 Gen 2 CPU in every Galaxy S23 handset, we're not surprised to see it make another appearance for the Z Fold 5. The silicon is clocked higher than the standard chip, so delivers a little extra grunt when temperatures allow. 12GB of RAM and a trio of storage options are exactly what we'd expect from a flagship foldable.
Benchmark apps were off limits during our brief hands-on with the phone, but it otherwise felt seriously snappy; apps opened almost instantly, multitasking was never an issue, and a few minutes of 4K video recording didn't suddenly turn it into a furnace. We're expecting performance on par with the immensely capable Galaxy S23 Ultra, which bodes well for gamers as well as those looking to get work done.
How long it will last away from the mains is an unknown right now. Battery capacity hasn't changed from last year, at 4400mAh, and while the CPU is a bit more power efficient the brighter inner screen will surely suck down a bit more juice. Samsung reckons an extra hour of video playback or gaming should be realistic, which should mean a full working day of use and plugging in before bedtime. We'll test the theory in our full review a little closer to launch.
No big strides have been made on the charging front, which remain a fair bit behind the best folding phones. The Z Fold 5 should support 25W top-ups over USB-C, which is officially good enough for 50% in half an hour, and can handle 15W wirelessly through a Qi-compatible charging pad. The Huawei Mate X3 can manage 66W wired and 50W wireless charging, which is significantly quicker.
Samsung Galaxy Z Fold 5 initial verdict
Last year's Galaxy Z Fold 4 was already a peach of a foldable phone, with just a few rough edges. On first inspection, the Z Fold 5 appears to have smoothed those edges off to great effect. The gap is gone, the crease less visible, the inner bezels barely-there.
The tall and thin outer screen might still be a sticking point for some, and we can't help but feel certain rivals now have the edge on design and dimensions, but the Fold 5 makes up for that with all the power you'd expect from a 2023 flagship. It's also still the productivity king, with stylus support and more multitasking options than any folding alternative.
We'll be keeping a close eye on battery life, and checking whether it can best the Pixel Fold on the photography front once we get hold of one for a full review, but early impressions are this feels as complete a folding phone as Samsung has ever produced.
Samsung Galaxy Z Fold 5 technical specifications
Screen
6.2in, 2316×904 AMOLED w/ 120Hz (outer)
7.6in, 2176×1812 AMOLED w/ 120Hz, S Pen support (inner)
CPU
Qualcomm Snapdragon 8 Gen 2
Memory
12/16GB
Cameras
50MP, f/1.8 w/ dual pixel PDAF, OIS + 12MP, f/2.2 ultrawide + 10MP, f/2.4 telephoto w/ PDAF, OIS, 3x optical zoom rear
10MP, f/2.2 cover
4MP, f/1.8 inner
Storage
256GB/512GB/1TB on-board
Operating system
Android 13 w/ OneUI
Battery
4400mAh
Dimensions
155x130x6.1mm (unfolded)
155x67x13.4mm (folded)
253g