Sony WF-1000XM5 review: new ANC in-ear king?
Can Sony raise the bar for noise cancelling earbuds yet again?
The problem with setting a high bar? Everyone expects you to raise it again at the next time of asking. Sony managed it four times on the trot with its true wireless in-ears, each placing among the best noise-cancelling headphones money could buy. The WF-1000XM5 wants to make it five in a row. That's a big ask, as rivals have really stepped their game up recently.
In an effort to dethrone the current ANC King, Bose's QuietComfort Earbuds II, Sony has stepped things up across the board. The design has evolved; comfort, call quality, sound and active noise cancelling have all been polished; the already extensive feature list has grown even longer. They're also priced to compete with the best Bose, Sennheiser, Apple and Technics have to offer. In theory that should be more than enough to make a good impression – but do they deliver in practice?
Design & comfort: that shrinking feeling
Seriously Sony, if you keep finding ways to shrink your earphones we'll eventually need a microscope to see them. The WF-1000XM5 earbuds are significantly smaller than the outgoing XM4s, which were themselves far more compact than their predecessors. They're about 20% lighter too, and the charging case is more pocket-friendly than ever.
The buds have been reshaped to better match your ear canals, and the styling refined with a mix of glossy and matte recycled plastics. We think a fully matte finish would've made for an even more luxurious feel (and perfectly matched the case). The subtle metal grilles that prevent the feed-forward microphones from picking up wind noise do at least add some design flourish.
Instead of the usual silicone ear tips, Sony has gone for a unique foam/rubber hybrid. They create a better seal, which really helps with passive noise isolation, without putting unwanted pressure on your inner ears. They don't gunk up with ear wax quite as badly as foam tips do, either. Four sizes are bundled in the box, including an extra-small pair, which should guarantee a good fit no matter your ear size.
Once we'd found the best fitting tips, the XM5s barely moved a millimetre; whether we were working at a desk, walking around or working out, they stayed locked in place. An IPX4 water resistance rating means they'll shrug off sweat, too. They don't quite sit flush to your ear, but we managed to sleep with them in without any morning discomfort afterwards. These buds are up there with the best around for comfort, and could even convince some over-ear diehards to give up their cans.
Features & battery life: much longer lasting
Sony has never skimped on features for its high-end earbuds, and the XM5 is no exception. They play nicely with your phone's voice assistant, have a full compliment of touch controls for adjusting playback and noise cancelling on the fly, and support LDAC Bluetooth for high quality streaming. There's still no aptX, though, so you're stuck with basic SBC or AAC if your phone doesn't have Sony's preferred codec.
Multipoint Bluetooth, for pairing to two devices at once, is included out of the box – the XM4 only got it post-launch with a firmware update. Speak to chat automatically cuts the ANC when you start talking, so you can have a quick conversation without taking the buds out first.
The biggest new addition is head tracking, which is meant to add an extra level of immersion to music apps that support the firm's bespoke 360 Reality Audio spatial sound. It's as Marmite as every other take on the tech we've tried when you just want to kick back with some tunes. Third party apps can put it to better effect, as long as they're supported through the companion app.
A new bone conduction sensor works with the outward-facing microphones and an AI-based noise reduction algorithm to strip out background noise from voice calls. It does a brilliant job, even in windy conditions; no-one we spoke to had trouble hearing us, even when we were walking along busy roads.
Battery life is largely unchanged, with the buds still managing up to eight hours with ANC enabled before they'll need a trip to the charging case. They got very close to Sony's estimate in our testing, which was done at sensible volume levels and always with noise cancelling in use. Rapid charging means a five minute stay in the case can add over an hour of listening time, too.
The case itself has two full charges, so you can pretty much go a full 24 hours before having to hunt down a plug socket. The case also supports wireless charging, so you can add some juice using your phone if it has a reverse charging function.
App & interface: get connected
Sony's comprehensive companion app is as happy to overload you with options as ever, with lots of scrolling and swiping to find the various settings and modes. It'll talk you through snapping photos of your ears to fine-tune the 360 Reality Audio upmixing, test how well the buds sit in your lugholes for the best passive sound isolation and bass response, and let you receive or reject calls by nodding or shaking your head. Yep, it's gimmicky, but it recognised each gesture consistently.
Want to prioritise a stable Bluetooth connection over sound quality? It's got you covered – although we had no trouble streaming LDAC audio in a crowded train station, with lots of nearby passengers. There's a bunch of EQ presets and a five-band equalizer for fine-grain control, but we're fans of the personalised mode. It lets you tap through a series of unlabelled presets, picking which sound best to you – think when the optician asks whether A or B is clearer.
You can't fine-tune the ANC, just pick between on, off and ambient sound passthrough settings. There's an adaptive mode which dials the intensity up or down based on your location, so you're getting the best cancellation while on public transport and a bit more background audio while in the office.
Sound quality and noise cancelling: the best gets better
With six microphones and a separate processor dedicated to noise cancelling, the WF-1000XM5 are astonishingly good at silencing the outside world. Wear them around busy cities and you'd best get in the habit of looking before you cross the road – with music at a moderate volume you simply won't hear cars driving past you at 30mph.
The low-frequency grumble of commuter trains is deleted just as effectively, even when listening to quieter acoustic tracks. Exceptionally loud sections of track on the London Underground would still seep through, but sounded much less harsh than they would do usually. You still get a sense of your surroundings while listening to spoken world podcasts, but less so than practically any other ANC in-ears. Wind noise is kept well in check, too.
Importantly, the noise cancelling doesn't colour the sound in any way. With a new 24-bit audio chip passing sound to an equally fresh pair of 8.4mm dynamic drivers, the XM5s are a joy to listen to. They're engaging, rather than neutral, which suits a whole
Bass is impactful but not overwhelming, with even more presence than the last-gen model. The sub-bass on electronic tracks like Purity Ring's Graves can sound boomy on lesser earphones, but there's none of that here.
Clarity is fantastic across the board, with clear vocals that don't dominate the mix, but display plenty of nuance. Editors' An End Has A Start brought a level of detail that elevates things above the older XM4s, and a high-end that's wonderfully crisp. The soundstage isn't as expansive as a good pair of over-ear headphones, but there's a width to proceedings that means the whole mix doesn't exist entirely in the middle of your cranium. There's plenty of volume in reserve, too. Paired to a Sony Xperia 1 IV smartphone, we never felt the need to crank it higher than 60%, and it was a similar deal with our other gadgets.
We can name a few pairs of top-tier in-ears with a little extra dynamism, and others that are more objective – but none that'll also match the XM5's ANC abilities.
Sony WF-1000XM5 verdict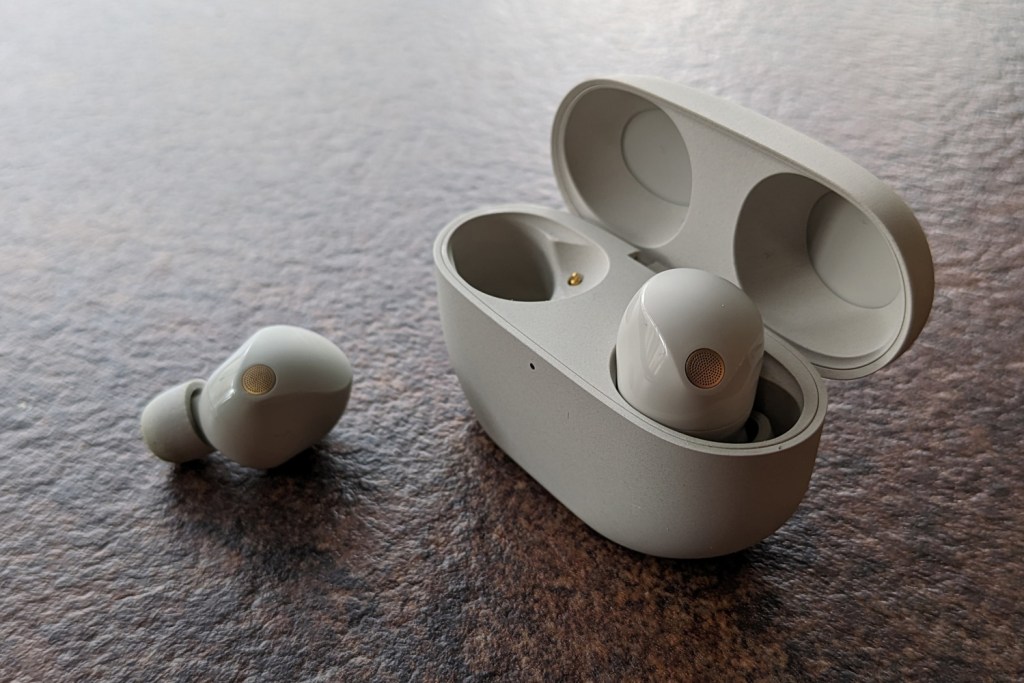 Sony already made some of the most well-rounded ANC earphones around, but the WF-1000XM5 nudges the firm back into class-leading territory. These are as phenomenally good at silencing the outside world as the Bose QuietComfort Earbuds II, and arguably better in certain scenarios.
Sound quality is a further step up from the already excellent XM4s, and the improved fit is fantastic. Add in respectable battery life and a comprehensive companion app, and there really are no weak links. You pay a premium for them, but won't find anything more well-rounded for less.
Stuff Says…
Improves on what were already some of the best noise-cancelling in-ears around, with even better ANC, a more comfortable fit and stellar audio. They're pricey, but the WF-1000XM5 are absolutely worth it.
Good Stuff
Exceptional ANC abilities
Superb sound quality
Wonderfully comfortable fit
Bad Stuff
Companion app could be easier to get around
Some materials don't feel as luxurious as others
Sony WF-1000XM5 technical specifications
| | |
| --- | --- |
| Drivers | 8.4mm dynamic |
| ANC | Yes |
| Bluetooth version | Bluetooth 5.3 |
| Codecs supported | SBC, AAC, LDAC |
| Durability | IPX4 (buds) |
| Battery life | 8 hours/16 hours (ANC on, buds/case) |
| Dimensions | 5g (buds) 36g (case) |