OnePlus Open specs, info and release date: everything we know
Upcoming debut foldable looks set to borrow heavily from sister brand Oppo
It's no secret that OnePlus is working on a foldable upcoming phone, now expected to be called the OnePlus Open. The firm announced its plans at this year's Mobile World Congress show, but otherwise left us guessing about when the phone would appear – or what sort of hardware it would be packing.
But the tech world rarely waits for companies to pull back the curtain themselves. That means there's plenty of rumour and speculation doing the rounds. How much of it can be believed? We've scoured through twitter tips and followed the whispers to uncover exactly what to expect from the OnePlus foldable – and come up with a wish list of things we'd like to see included.
What will it be called?
Originally we expected the OnePlus to be called the OnePlus V Fold thanks to numerous rumours. But a tweet from OnePlus itself suggests that the phone might be called OnePlus Open or OnePlus V Open possibly.
The tweet was very deliberately timed an hour before Samsung's Unpacked event to launch the Galaxy Z Flip 5 and Galaxy Z Fold 5.
OnePlus Open expected release date and price
Given it has no history with foldables, working out exactly when OnePlus will unleash the Open is something of a mystery. We don't even know if it'll get a global rollout, or whether certain countries will get it before others – although that has been the firm's strategy for its regular phones recently. The OnePlus 11 launched in China in January 2023, then in India and Europe a month later.
The firm naturally avoided July, given that was when Samsung unleashed the Galaxy Z Fold 5. Currently the smart money seems to be on September or October. Twitter tipsters have suggested the Oppo Find N3, almost certainly a sister phone that the OnePlus Open will share many specs with, is set for an August 29th reveal in China; OnePlus should then follow a month or so later for more global audiences.
Apparently the original plan was for an earlier launch, but switching suppliers for the folding inner screen pushed things back. There's also talk of Nokia's ongoing royalties dispute causing issues. Either way, until OnePlus makes it official, we're largely in the dark.
That means there's no sense guessing how much the phone will cost, either. With shipping and raw materials costs having jumped over the last year or so, and exchange rates dipping worldwide, what might be a bargain one month could quickly look mighty pricey the next. We do know OnePlus prides itself on 'flagship killer' pricing, so we're hopeful it will land for less than the £1749/$1799 Google Pixel Fold.
OnePlus Open hardware rumours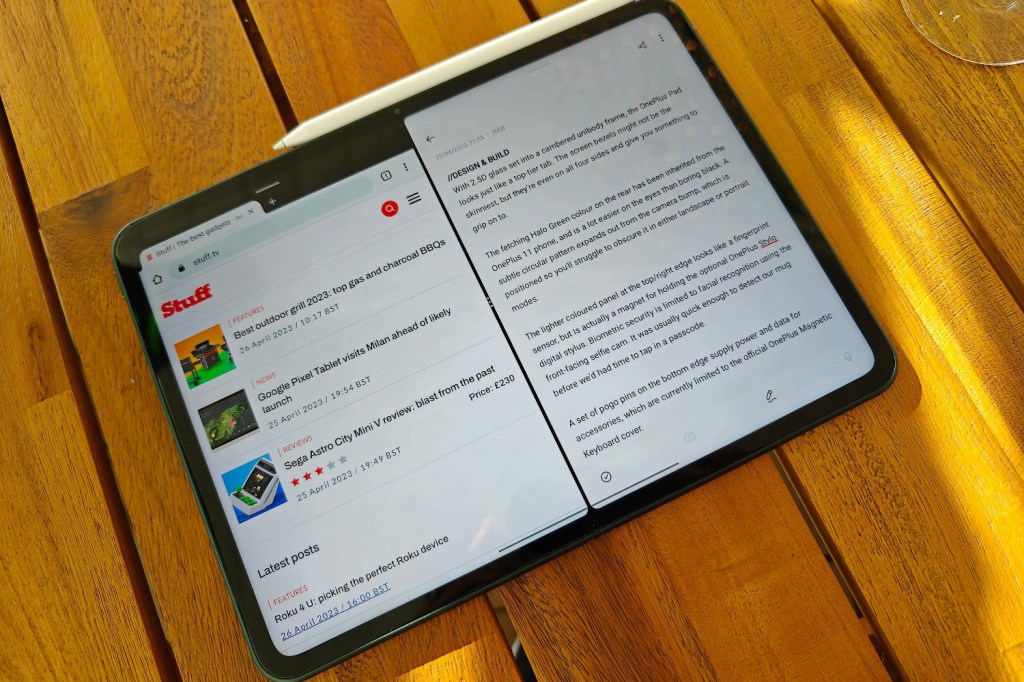 Currently the biggest hardware scoop come courtesy of Twitter tipster Onleaks and Indian tech site Mysmartprice, which claims we can expect flagship-tier hardware from the Open.
We should expect a 6.3in outer display, which unfolds to reveal a 7.8in internal screen. Both will be AMOLED panels, and have 120Hz refresh rates. Underneath, a Snapdragon 8 Gen 2 CPU will run the show, and come paired with 16GB of RAM for mega multitasking. 256GB of on-board storage seems a lock, too. A 4800mAh battery will give it an edge over rival foldables with smaller cells, and wired charging will apparently top out at 67W.
Hasselblad is supposed to be back on board for the rear camera, which will have three lenses: a 48MP primary, 48MP ultrawide and 64MP telephoto. It's not clear what level of zoom the telephoto will manage. There'll be two selfie cameras to choose from, with a 20MP snapper inside and a 32MP on the cover screen.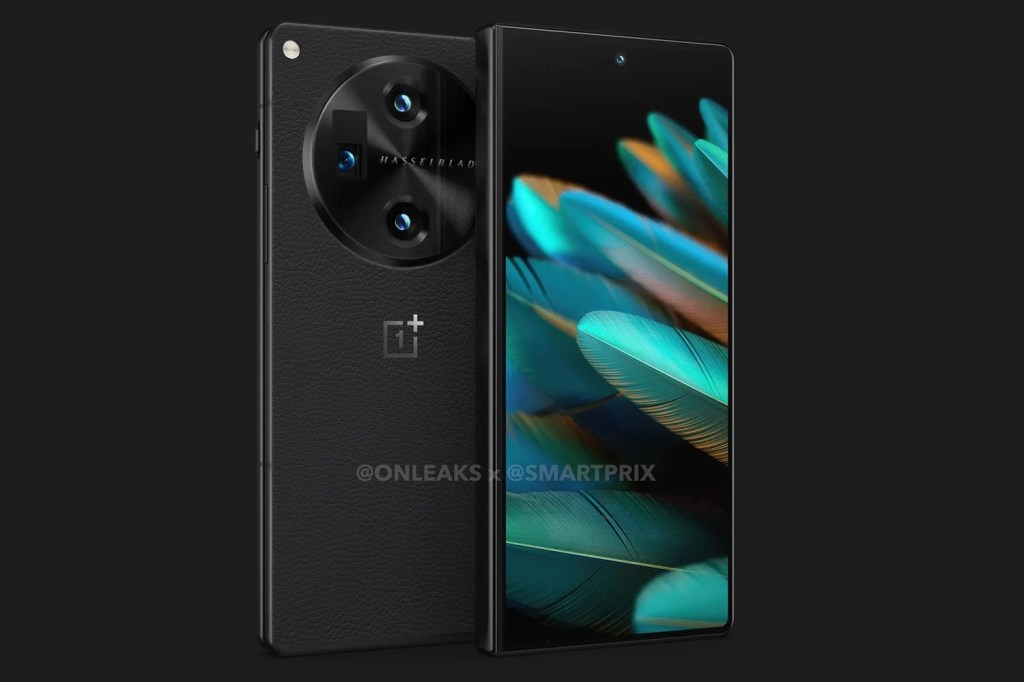 A series of renders posted by Onleaks and Smartprix show the OnePlus Open based on early internal prototypes, suggesting a big circular camera bump and a faux leather material for the back of the phone. A glass or metal finish is also expected to be an option at launch. The firm's signature alert slider will reportedly make an appearance, too.
We should expect a side-mounted fingerprint scanner, rather than an under-display sensor, and it should run Android 13 out of the box. That implies an Autumn launch to us, as Google is expected to release Android 14 around October/November time.
OnePlus Open feature wish list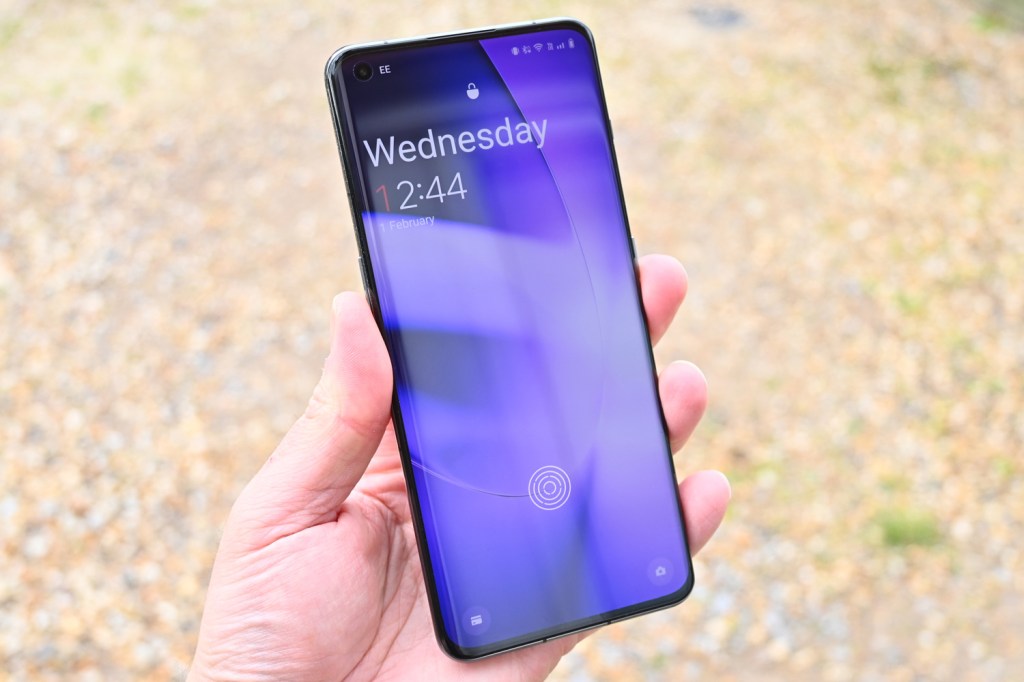 We've tested plenty of book-style foldables, so have a good idea what makes a good one – and also what pitfalls any newcomer to the form factor needs to watch out for. Here are a few things we'd like to see OnePlus pull off with its debut effort.
Rapid charging
Few book-style foldables on sale officially in Europe has especially rapid charging times; the Samsung Galaxy Z Fold 4 tops out at 25W and the Google Pixel Fold is even slower at 23W. The Honor Magic Vs is the de facto leader at 66W, although there are several China-centric models that match it, including the Oppo Find N2. Given OnePlus and Oppo are under the same umbrella, we're hopeful the Open can at least match it for wired top-ups. Equally quick wireless charging would be a bonus.
Stylus support
This isn't a must-have, but if OnePlus wants to properly sock it to Samsung, we reckon it should launch the Open with support for the OnePlus Pen. The digital stylus launched alongside the OnePlus Pad tablet earlier in the year, and would be perfect for note-taking, doodling and generally getting work done. It's something the Galaxy Z Fold 4 supports (even if you've got to buy an S Pen separately), and something the Google Fold goes without, so including it here would help the Open stand out.