Mark Levinson No. 5909 review: redefining high-end
Do these stratospherically costly cans deliver a matching sonic performance?
With such a long history of high-end Hi-Fi, it's hardly a shock that Mark Levinson's first pair of headphones are on the pricey side. But quite how pricey might still take your breath away. Not a single entry on our best headphones list come close to meeting the $999/£999 a pair of No. 5909 will set you back.
For that sort of scratch you could pick up the Apple AirPods Max, the Bowers & Wilkins PX8 or the Focal Bathys, and still have a considerable amount of change left over. A good job, then, that there's more than just the basics on offer here. The No. 5909 packs in active noise cancelling, support for multiple top-tier Bluetooth codecs, and a build quality to match. Ultimately, though, it'll be stellar sound quality – or the lack of it – that'll decide whether such a lofty premium is justified.
Design & build: stunning yet subtle
At first glance the No. 5909 doesn't look too much of a departure from the norm. These closed-back, over-ear cans aren't as in-yer-face as the intricately detailed Focal Bathys, even in a cherry red finish that glistens in the light like the paintwork on a supercar. The materials are top notch, though.
The frame is machined from anodised aluminium, while the ear cushions and headband are wrapped in leather. Each is stuffed with ample amounts of memory foam. The ear cups have a good amount of tilt and swivel, while the headband allows for tiny adjustments. There's just the right amount of clamping force, too.
At 340g these are a substantial pair of headphones, but we could listen for hours at a time without any aches or pains. They fully envelop your ears, though, so things can get a little sweaty on hotter days. They don't fold flat, either, so will take up a fair bit of room in a bag or backpack.
You also get a strong selection of accessories for your cash. Inside the hard-shell carry case (which isn't too bulky and provides plenty of protection for taking the headphones with you on the move) are a pair of USB-C to 3.5mm audio cables – a short one for personal listening and a one long for plugging into a home Hi-Fi. They're neatly braided, which helps cut down on cable tangles.
There's also a USB-C charging cable, USB-C to USB-A adaptor, 6.3mm headphone jack adaptor and airplane audio adaptor. Just keep in mind it's not universal; it wouldn't work on our recent long-haul flight, but luckily the regular 3.5mm cable worked just fine. Oh, and don't forget the microfibre polishing cloth to keep the cans looking their shiniest.
Features & battery life: get connected
The headphones themselves keep things simple with just a few physical controls on each ear cup: power and ANC toggles on the left, playback and volume buttons on the right, alongside a USB-C port that handles both charging and wired listening. That covers the basics, with the smartphone companion app handling the rest.
Inside, Bluetooth 5.1 connectivity includes aptX Adaptive and LDAC codec support as well as the more run-of-the-mill SBC and AAC. With two high quality codecs on board, you'll be able to have songs streaming at their best from a wider range of devices compared to rival cans that only support one or the other.
The four-mic array does a grand job with voice calls, picking up our speech clearly even with a bunch of background noise while walking around the city. Those we spoke to over the phone had no complaints. The mics also contribute to the No. 5909's noise cancelling abilities – more on those below.
We saw just under 30 hours of listening from a single charge with ANC enabled, which is roughly on par with Mark Levinson's battery life estimates, and about average for a pair of top-tier over ears. Turning off cancellation clawed back a few extra hours on top. We also appreciated being able to add five or six more hours of listening from just a quick 15 minute top-up.
Interface: hands-off operation
With no physical battery life indicator, you'll need to check the smartphone companion app to see exactly how much juice you have remaining. This is also able to install over-the-air firmware updates, adjust how long before the headphones will shut themselves off, and enable or disable wear detection. We opted to keep it off, as it could be a little sensitive when worn while walking at anything above a light meander.
So far, it's all fairly standard stuff. Beyond that, though? It's actually somewhat basic. You do get three ANC presets to pick between (low, high, and adaptive), but no options to reconfigure the physical controls, pick the active Bluetooth codec, or set up any clever voice assistant actions. There's no spatial audio head tracking here, and no custom EQ.
There aren't even any equaliser presets to choose from, just three options for bass response: neutral, Enhanced (more), or Attenuated (less). Naturally the technicians over at Mark Levinson think they've gotten as close to the Harman Curve as possible right out of the box. Parent company Harman's target sound signature is meant to please the widest range of listeners, so why mess with it?
Sound quality and noise cancellation: all about audio
On first listen we couldn't help but agree with that line of thinking. The No. 5909's beryllium-coated 40mm dynamic drivers produce simply outstanding audio. Of course it'll perform best with a top quality source, but you don't need to exist solely on Tidal Masters recordings to appreciate the nuance and depth on show here. Even Spotify streams of questionable bootlegs have surprising presence – though keep in mind you lose some of that impact when paired over AAC to an iOS device.
The entire frequency range is allowed to shine, with the high-end and sub-bass sharing equal billing. It's energetic when it needs to be, and subtle when it doesn't, with a precision you rarely find from Bluetooth headphones. The noise floor is also lower than almost any model you'd care to name, being all but silent until you feed it a new track. The backing percussion of Burial's Nova is allowed to be equal parts soulful and grimy, with little evidence of on-board amplification.
You get a wonderfully expansive soundstage for a set of closed-back cans, which fully immerses you in your music. Even the most complex arrangements are handled delicately, with each instrument given plenty of space to breathe. The pulsing bass boom of Chase & Status' Baddadan doesn't intrude over the gunshot-fast lyrics, and the hi-hats have an oh-so-satisfying crispness that really adds to the rawness of the track.
Sadly though the No. 5909 can't quite keep up with the best noise cancelling headphones when it comes to muting the outside world. ANC does a decent enough job at silencing dull background noise like the rumble of an airliner or the clattering of a train carriage, but is caught out by unexpected louder and higher-pitched noises in a way that the Sony WH-1000XM5 or Bose QuietComfort 45 simply aren't.
The ANC signal doesn't sour the sound in any way, and do manage to keep chatty office colleagues, fellow commuters and pavement passers-by from causing any meaningful distractions. But when you're spending so much, it's fair to expect the very best noise cancelling around – and this isn't it.
Mark Levinson No. 5909 verdict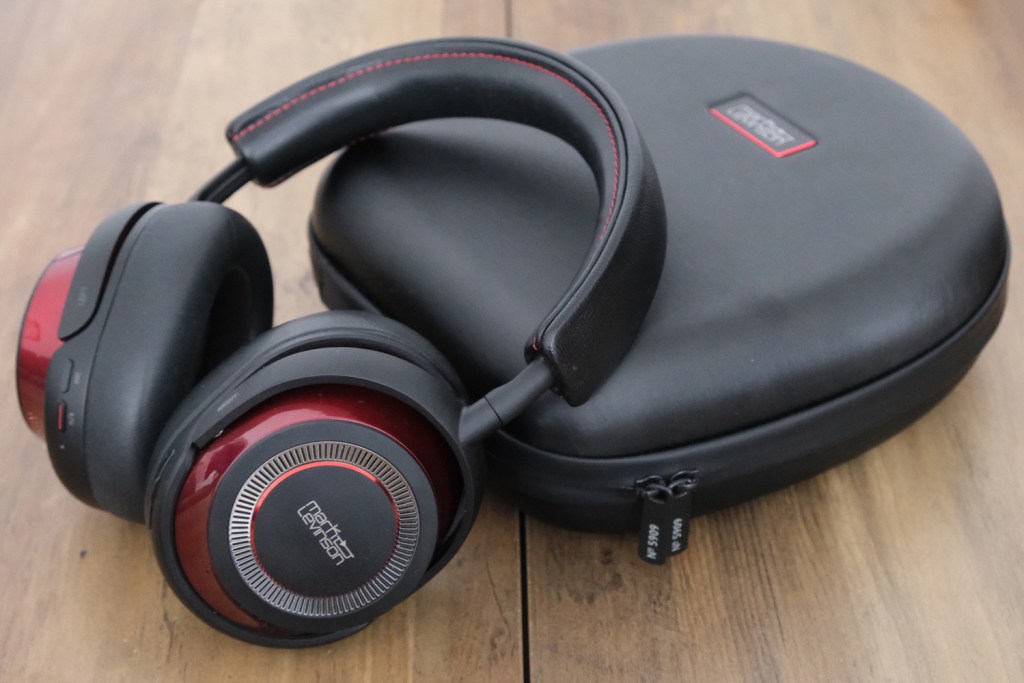 There's no doubt the No. 5909 is a superb sounding pair of headphones. Whatever genre you feed them, tracks are delightfully detailed and tonal balance is seriously impressive. Bluetooth listening has certainly come a long way; with a pair of these around your ears you absolutely won't miss a wired connection. It's also comfortable to wear for long stretched and battery life is easily on par with the competition.
It doesn't quite hit the mark elsewhere, however. Active noise cancellation that can't match that of rivals which are significantly cheaper, there's little in the way of EQ customisation, and audio performance isn't so far removed from the rest of the field it entirely warrants the eye-watering price.
Anyone with especially deep pockets will appreciate the fidelity on offer, but those on smaller budgets have plenty of alternatives to choose from that get most of the way there.
Stuff Says…
A fantastic sounding pair of headphones for sure, but one that demands an outlandish price. Only for those who refuse to compromise on comfort, connectivity or quality.
Good Stuff
Effortlessly engaging audio
Very nicely made from high quality materials
Great codec support
Bad Stuff
Costs twice as much as the (very strong) competition
ANC is good, rather than great
Companion app is rather basic
Mark Levinson No. 5909 technical specifications
| | |
| --- | --- |
| Drivers | 40mm dynamic |
| Active Noise Cancellation | Yes |
| Connectivity | Bluetooth, USB-C, 3.5mm |
| Bluetooth version | Bluetooth 5.1 |
| Codecs supported | SBC, AAC, LDAC, aptX Adaptive |
| Battery life | 30 hours (ANC on) / 34 hours (ANC off) |
| Dimensions | 201x206x66mm, 340g |